Jess Thomas: Great Autograph on 7 x 10 Photo CoA – col8676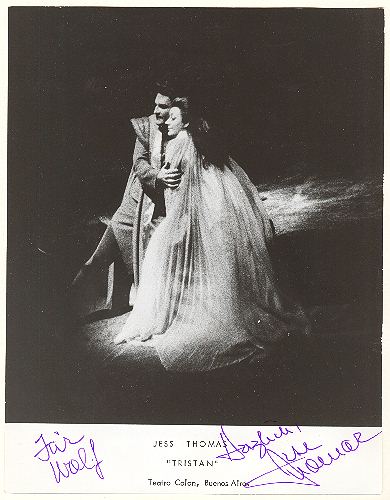 Jess Thomas (1927 – 1993) was a lyric and Wagnerian tenor. He was awarded the Wagner medal at Bayreuth, Germany in 1963. His many appearances in North America and Europe between the late 1950s and early 80s included 15 seasons in 95 performances of 15 roles at the Metropolitan Opera House in New York City.
Debut in 1957 for the San Francisco Opera in Richards Strauss's Der Rosenkavalier performing as the Haufhofmeister. In 1958, he debuted in the title role of Lohengrin for the Karlsruhe Staatstheater at the commencement of a career in Germany. Thomas appeared as Bacchus in Ariadne auf Naxos at the Munich Festival.
It was at Bayreuth that he established his reputation as a Wagnerian tenor performing in Wagner operas as Parsifal, Lohengrin, Walther in Meistersinger, Tannhäuser and Siegfried. In 1963, he joined the cast of the Metropolitan Opera appearing in 95 performances for 15 years. Amongst the highlights of his career with the Metropolitan Opera was appearing at the opening of the Lincoln Center hall in the first performance of Samuel Barber's Anthony and Cleopatra with Leontyne Price.
Thomas's farewell performance took place in Washington DC in a guest performance of Parsifal by the Metropolitan Opera in 1982. (Item #col8676)
More at our CURIOSHOP