Joseph Stalin Portrait: Strange piece from the time of the Cultural Revolution in China.
Embroidery ( silk ) from one of the most famous weaving mills in China, Hangzhou.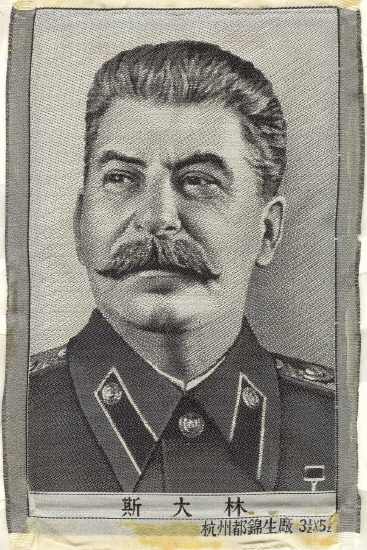 click image to open
Size: 3,5 x 5 inches plus margins. The embroidery has been fixed in a frame so there are bends and some stains along the margin ( can be fixed by ironing it ).
Fine condition, quite scarce.
Josef Vissarionovich Dzhugashvili, Ioseb Besarionis Dze Jughashvili; Russian: Iosif Vissarionovich Dzhugashvili, (1878 –1953), better known by his adopted name, Joseph Stalin (alternatively transliterated Josef Stalin), was General Secretary of the Communist Party of the Soviet Union's Central Committee from 1922 until his death in 1953. Stalin's increasingly gained control of the Party from 1928 onwards and finally became the de facto party leader and the dictator of his country, in full control of the Soviet Union and its people. His crash programs of industrialization and collectivization in the 1930s and his campaigns of political repression cost the lives of millions of people. However it helped industrialize the Soviet Union making a Great power by 1931. By 1937 the Soviet Union had become the second largest industrial nation in the world.
Under Stalin's leadership, the Soviet Union played the decisive role in the defeat of Nazi Germany in the Second World War (1939-45) more commonly know as The Great Patriotic War in Russia and post-Soviet republics and went on to achieve the status of superpower, expanding its territory to a size similar to that of the former Russian Empire excluding most of Finland, Poland and Alaska.
More at our CURIOSHOP