Fritz Wunderlich Autograph on Photo CoA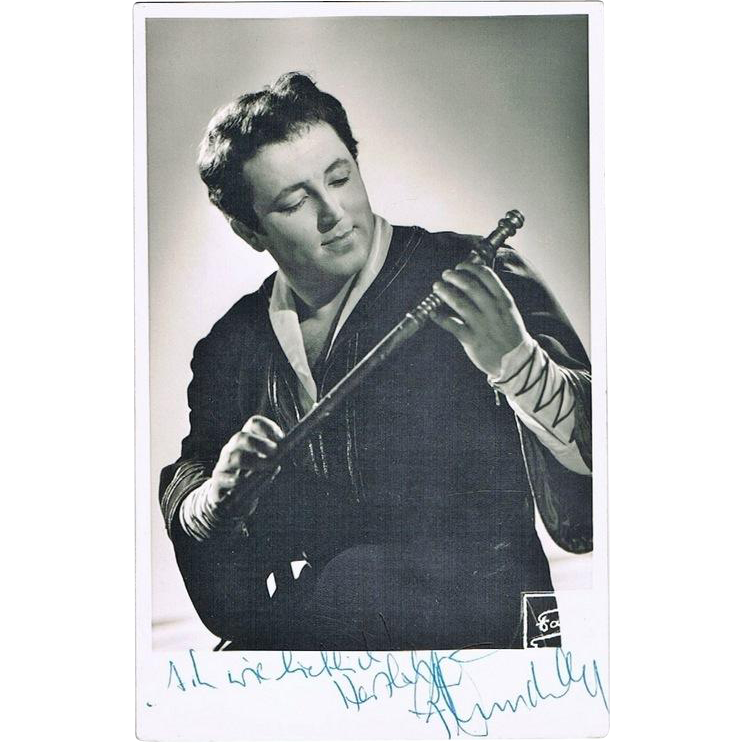 Legendary tenor Fritz Wunderlich as Tamino. Photo by Fayer, hand-signed by Fritz Wunderlich with a quote of The Magic Flute: Ach wie herrlich. Herzlich Fritz Wunderlich.
The Autograph comes with a Certificate of Authenticity.
Size: 9 x 14 c. Good condition.
Friedrich "Fritz" Karl Otto Wunderlich (1930 – 1966) was a German lyric tenor, famed for his singing of the Mozart repertory and various lieder. He died in an accident when he was only 35.
Wunderlich achieved the highest distinction within the German repertory. Of special importance is a recording of Mozart's The Magic Flute, conducted by Karl Böhm, in which Wunderlich gave a critically acclaimed performance as Prince Tamino, opposite baritone Dietrich Fischer-Dieskau in the role of Papageno. There is also a live performance of The Magic Flute recorded in 1960 at the Salzburg festival, and several recordings as Belmonte in Die Entführung aus dem Serail. Recordings also exist of lesser-known Mozart operas such as Zaide and La Finta Giardiniera.
Wunderlich's crystal-clear voice, exquisite diction, and intelligent, restrained interpretation also led him to impressive renditions of the lieder cycles of Schubert and Schumann with pianist Hubert Giesen. His famous recording of Schumann's Dichterliebe remains a gold standard of this genre. Many tenors since have emulated Wunderlich's interpretation of this cycle.

MORE Autographs at collect.at: