Extremely decorative Art Nouveau postcard, published by Wiener Werkstätte.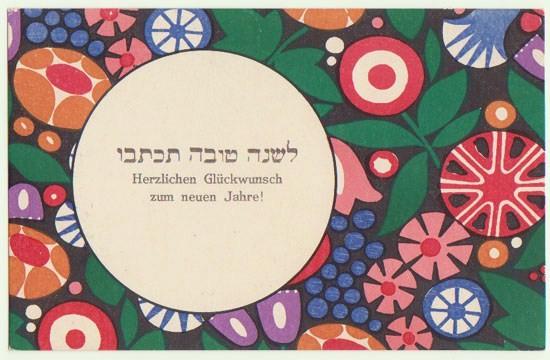 click image to open
"Stoffmuster" design by W. Jonas. ( Design for textiles ). New Year's Greetings in Hebrew and German. Mint, perfect condition.
Wiener Werkstätte (en: Viennese Workshops), was founded in 1903. Two of the founders were the artists Josef Hoffmann and Koloman Moser.
Important members of this workshop were the painter Gustav Klimt, Egon Schiele, Emilie Floge, Max Lenz, Wilhelm Lizst, Emil Orlik, Dagobert Peche, Eduard Wimmer Wisgrill, Leopold Bauer, Oskar Kokoschka, Vally Wieselthier, Otto Prutscher, Emanuel Margold, Hans Ofner, C.O. Czeschka, Michael Powolny, Carl Moll and Maria Likarz.
The Wiener Werkstätte created works of craftsmanship in a very distinctive style, the Wiener Werkstätte Style. The workshop mainly dealt with creating jewelry, fabrics for clothing, ceramics and pottery, and furniture, all characterized by simple shapes, minimal decoration and geometric patterning.
Due to poor finances, the Wiener Werkstätte closed in 1932.